WELCOME ABOARD!
Our goal is to provide a safe, healthy, caring and learning environment for young children to explore. Our practice is to promote the development of the whole child. We consider the whole child not just cognitive, physical, and emotional.

Classroom activities will be based on hands-on experiments and age-appropriate tools, and include phonics and Chinese language, math and science, arts and crafts, music and movement, social play, gardening, and computer lab.

Every child is different, and has different developmental needs. We offer support and encouragement through their interest and curiosity to build up their self-esteem. Individual attention helps children to gain confidence during this period of development.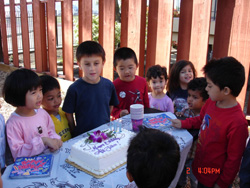 Birthday Party
Children need to feel important as an individual, and learn to respect themselves and treat others, as they would want to be treated. Our program is to aid children in the development of sanitary health habits, learn to share, be polite and thankful.
Parent participation may be required for our program. We would like to see parents communicate to each other about themselves, children, and share ideas about the program. That will help us to improve the program, and serve the children in a better way.